Oldham County Property Management
Let us manage your Oldham County rental property

If you are searching for a top quality Oldham County area property management company, Robert Massey Company is your solution. Robert Massey Company stands above other Oldham County property management companies, with its highly-trained and experienced personnel who have earned a BBB rating of A+ and who consistently deliver high quality services to property owners and residents since 1956.
The company reputation as a family-owned and operated real estate sales and property management firm has been achieved from the 60+ years of dedicated service to residential sales and rental property management clients.
Investors seeking counseling and guidance in the purchase or property management of single-family rental homes, apartment buildings or commercial buildings in the Greater Oldham County, KY area choose Robert Massey Company as a solutions partner. The company provides high quality oversight and trustworthy service that individuals, families and businesses deserve.
The Property Management Division at Robert Massey Company embraces and utilizes the latest technology and innovative tools so owners can stay on top of the status of their rental properties. No longer does living far away or being out of town present an issue with obtaining information or receiving funds relating to an owner's rental property when utilizing the services of Robert Massey Company. Owner statements are e-mailed and funds are seamlessly transferred into owner bank accounts expediting the process and allowing for receipt irrespective of location of the owner. As a leader in technology and online services, clients of Robert Massey Company also have the ability to download previous monthly statements from the company website and Federal 1099 Forms at any time and reap the benefits of the company-implemented innovations in real estate property management technology and services. Residents of Robert Massey Company managed properties also enjoy similar online services which helps attract the most responsible tenants in Massey managed properties. Learn more about our operating procedures from our many published property management articles.
Inquire About Our Services
(502) 459.7070
Our list of clients includes doctors, attorneys, engineers, and persons from all walks of life. We have heightened expertise and industry knowledge. We are real estate professionals who know first-hand the unique challenges of managing rental property in today's constantly changing economic and legislative environment. Our experience becomes your competitive advantage.
Because of our industry affiliations, we have access to numerous educational resources and access to cutting edge systems in the industry. We embrace technology and use it to attract the best renters while providing property owners and tenants online tools which simplify the exchange of information and the transferring of funds. Our personnel include property management experts and experienced real estate sales agents. We all adhere to the highest Standards of Professionalism and Code of Ethics. We maximize net rental income for the long term taking into consideration those steps necessary to attract the best renters while preserving the integrity of the buildings in which they rent. Let us manage your property to free up your time for the things that you would rather be doing than dealing with the mundane, yet critical, details of property management.
If you are looking for a real estate company with experienced professionals engaged in professional property management and/or real estate sales in the Oldham County, KY area, Robert Massey Company is the solution. The company provides high quality guidance and trustworthy service that individuals, families and investment groups deserve.
Full Real Estate Property Management Services for Owners
+
Single-family Home Property Management
Rental Property Management
Residential Property Management
Commercial Property Management
Counseling for Investors Seeking Rental Properties
Property Managers Provide Full Property Management Services for Owners
+
Overseeing vacant unit preparation for occupancy
Marketing and advertising vacancies as needed
Fair Housing Compliant screening and selection of tenants
Preparing lease documents
Orientation for new tenants
Collecting rent
Handling delinquencies and evictions when necessary
Making periodic inspections of property
Handling lease violations
Making periodic inspections of property
Overseeing maintenance of property
Staff maintenance for minor repairs at affordable costs
Oversight of major renovations & repairs
24-hour emergency response services
Preparing monthly income and expense reports
Annual reports including 1099 preparation for accountant
Owner Portal for 24/7 online access to reports and tax information
Online Tenant Portal provided for convenience of resident & commercial lessees
Credit reporting of all tenant rent payment
Initial Site Evaluation
+
In order for us to determine what work is necessary to place your property of the market for rent and to ascertain its rental market value range, it is necessary that we conduct a first-time site evaluation. This property survey typically takes between one-half an hour and one hour and involves thoroughly viewing, photographing and documenting the condition of interior and exterior of the property including the grounds and landscaping.
It is the first step in starting the process of getting a property market ready and subsequently leased. Please call today to schedule your Initial Site Evaluation.
Overseeing Vacant Unit Preparation for Occupancy
+
Overseeing vacancy repairs, painting, cleaning & carpet cleaning as needed
Staff maintenance provided for minor repairs at during turnovers
Upgrades & Remodeling Oversight when desired
One-Time Leasing
+
Making recommendations for market preparation of property
Pricing of rent based on market conditions
Marketing and advertising vacancy - assuring Fair Housing Compliance
Tenant selection compliant with Federal Credit Reporting Act
Advanced time-tested screening and background checks run on all leasing applicants
Preparing and execution of all lease documents
Collecting deposit and first month's rent
Facilitation of utility transfers
Lease signing and closing
What We do as Your Greater Oldham County Property Manager:
+
Fill vacancies
Advertise & market your rental
Handle tenant inquiries
Show vacancies to prospective renters
Perform Background and credit investigations
Application processing
Lease signing
Full service repair
Handle after-hour emergencies
Rent collection
Accounting
Coordinate Evictions if necessary
Property Evaluation
+
We inspect each rental unit and identify the needs for making it market-ready including normal turnover preparation and other improvements which are cost effective in maximizing its rent potential.
Marketing
+
We utilize paid and unpaid internet listing websites to provide full exposure to the marketplace in addition to listing it on our website. In cases in which we deem it fruitful, we also will provide a yard sign.
Tenant Screening
+
Tenant screening is a specialty at Robert Massey Company. Using decades of experience to tweak this procedure, we independently score each applicant in the following three areas to make a determination whether or not they qualify: 1) assuring sufficient income and its stability, 2) reviewing credit history and, 3) carefully reviewing their housing history. These three areas are reviewed in a legal and unbiased manner consistent with Federal, State and Local Fair Housing Laws in order to arrive at an intelligent and reliable decision.
Security Deposits
+
We pride ourselves in renting to applicants who usually get their full deposits back. It is testament to our high-level screening when a resident receives his or her security deposit back in full. Any damage beyond normal wear and tear is retained from the security deposit. In the rare cases in which a security deposit is not sufficient to cover damage costs, we pursue them for any balance due on behalf of our owner/clients.
Lease Preparation
+
As part of our normal duties we prepare a customized time-tested lease agreement for each approved renter. This document is typically signed at our in-office lease closing in which many policies and procedures are covered to assure a smooth transition for our residents into their new rental home or place of business.
Oldham County Area Information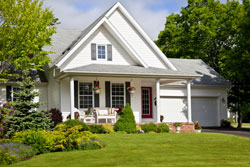 Oldham County is a county located in the commonwealth of Kentucky. As of the 2010 census, the population was 60,316. Its county seat is La Grange. The county is named for Colonel William Oldham. Oldham County was a prohibition or completely dry county until January 2005 as the result of a 2004 'moist' vote, permitting sales of alcohol in restaurants that seat at least 100 patrons in which 70%+ of total revenue is derived from sales of food. After a vote in late 2015; Oldham county has become a completely wet county.
Oldham County is part of the Louisville/Jefferson County, KY–IN Metropolitan Statistical Area. Source From Wikipedia
Areas We Serve